The Vickerman Canvas
Honing in your design aesthetic all starts with the perfect tree.
Whether designing for a high-end client's home or a high-traffic event, choosing the right artificial Christmas tree is an art and a science. After all, the right blank canvas can highlight your design and set the tone of the space. And an ill-fitting tree can take away from what would otherwise be a stunning display.
Regardless if you've been designing and decorating spaces for years or decades, these seven considerations will help you provide for your client time and time again.
Size: The Right Designer Tree for Your Space
First, let's get the technical details of measuring a tree out of the way.
Trees should always be measured from the floor (including the stand) to the top tip of the crown. Trees over 5 feet have a single tip that sticks above the top of the pole (measuring approximately 8 inches). We always recommend that designers select a tree height that leaves at least 6 inches between the tree topper and the ceiling.
When measuring the surrounding space of the tree, a tree's width is calculated by measuring across the bottom of the tree at its widest points. To visualize what width of tree will best accentuate your design, measuring or taping out the desired size can help in the decoration process. Finding the right combination of width and height to create feelings to complement the client's space is crucial for a designer. A bigger, wider, tree that gives a room drama, or a smaller tree in a home to invoke nostalgia, size is important for a designer to note.
Choose frame trees for big statements
Vickerman has a wide selection of tree sizes up to 30 feet. A frame construction is utilized for all trees over 15 feet to provide extra support. Frame trees use a cone frame rather than a traditional center pole and are available for indoor and outdoor use.
Our Oregon Fir Frame Tree and Grand Teton Frame Tree feature this construction. Hook-on branches in the lower sections of these trees create a much easier assembly process and a sturdier tree. The frame trees offer branches that are individually wired, creating ease of maintenance and higher reliability for commercial spaces.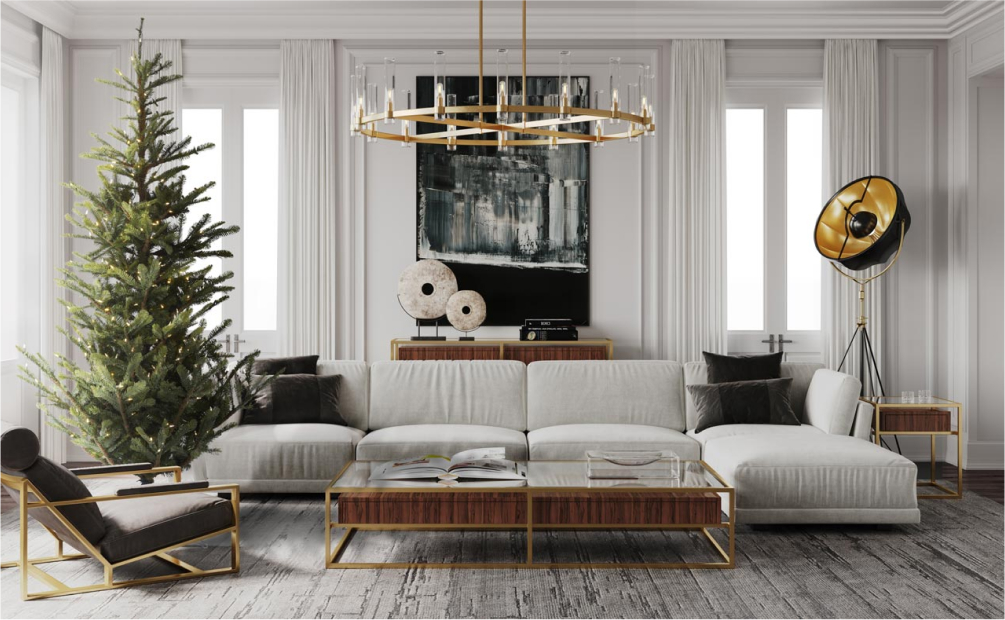 Shape and Density: Skinny, Robust, and Everything-In Between
The size and configuration of your space should guide your decision regarding the tree's shape and density. For smaller areas, a slender silhouette like our Camdon Fir is an excellent choice, as it won't overpower the room.
In contrast, larger rooms with high ceilings can accommodate a grand, densely branched tree that demands attention. A lush tree with layered tips is ideal for displaying ornaments and other decorations to their full advantage.
Remember, a tree's shape should enhance the room's overall aesthetic, and the fullness of the branches will dictate how much the tree stands out in the space.
Display trees for high-traffic areas
Display trees are created with the sales floor in mind, offering sturdy branches to hang ornaments on while providing enough space in between layers to display them nicely.
Realism: Choosing Faux Christmas Tree Branches
The degree of realism you choose for your client will set the tone for your entire design. While some clients may seek a quirky or unique aesthetic, many of your designs will prioritize a tree that looks as close to the real thing as possible.
PE vs PVC artificial trees
Artificial trees are typically made from two main materials: Polyethylene (PE) and Polyvinyl Chloride (PVC). PE tree tips are molded with a small amount of paint added for realism. These tips are closer to the look and feel of a real tree, providing luxurious natural elements without the mess and stress of a real pine tree. The Higher quality PE does result in a higher cost than PVC options, so most PE trees do include some PVC tips within the design to create a fuller look while keeping the cost down. The realism PE provides can expand a designer's direction, letting the tree stand alone with minimal ornaments in natural beauty. They can also be highlighted by stems and sprays beautifully.
PVC tree tips are slightly less realistic than their PE counterparts but still provide a beautiful, traditional appearance. Because PVC trees are often more affordable than PE trees, they allow for more room in a decorator's budget. Vickerman trees use a double-ply PVC to reduce the risk of crushing the tips during storage.
Which material is right for your installation?
PE tip trees should be used when a decorator has a simplistic theme in mind and is working with fewer ornaments and decorations. With a more streamlined look, you can showcase the natural realism of the tree.
Shop the Itasca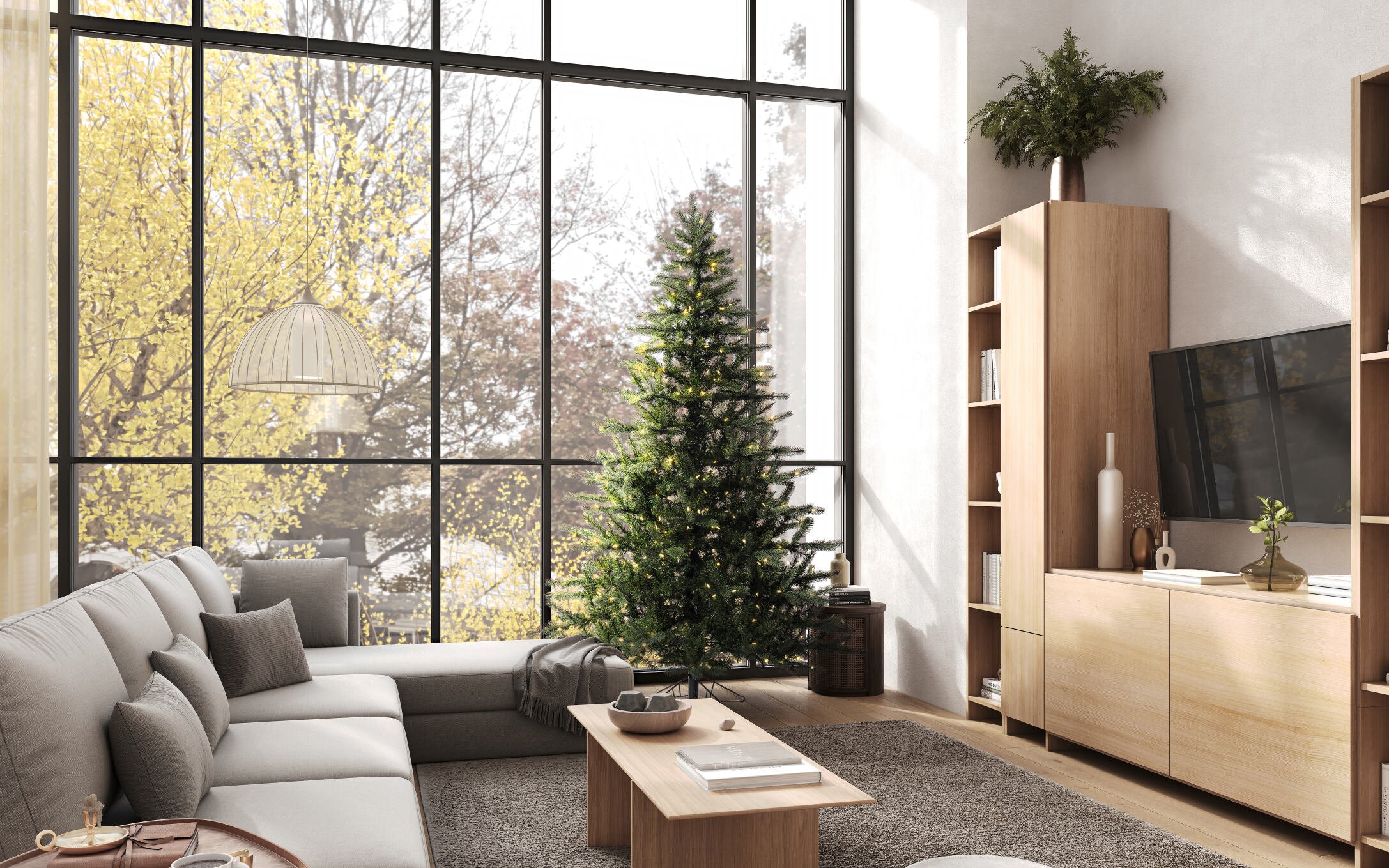 PVC tip trees should be used when a decorator intends to use a maximalist design and put a high volume of ornaments on the tree. This way, the individual tips will be less on display while still highlighting the form and shape of the tree.
Hard Needle PE tips add a wispy feel to the design as found in Vickerman's Emerald Mixed Fir.
Flocking: Adding Texture to Your Focal Point
A flocked tree can capture the essence of a white Christmas indoors, and there are many variations for you to use to transform your client's space.
Heavily flocked trees give an intensely wintry feel. Trees with this much flocking may create more of a mess during setup and take-down, which is important for designers to note, but is well worth the cleanup. The drama a heavily flocked tree creates in a space is beautiful and can be adorned with a variety of ornament themes to showcase its detailed branches. Neutral color schemes or mixed metals work wonderfully with heavy flocking.
Lightly flocked trees offer a dusting of snow. This snowy beauty provides the enchantment of the cold indoors with less mess and more subtlety. Traditional themes accent these trees perfectly.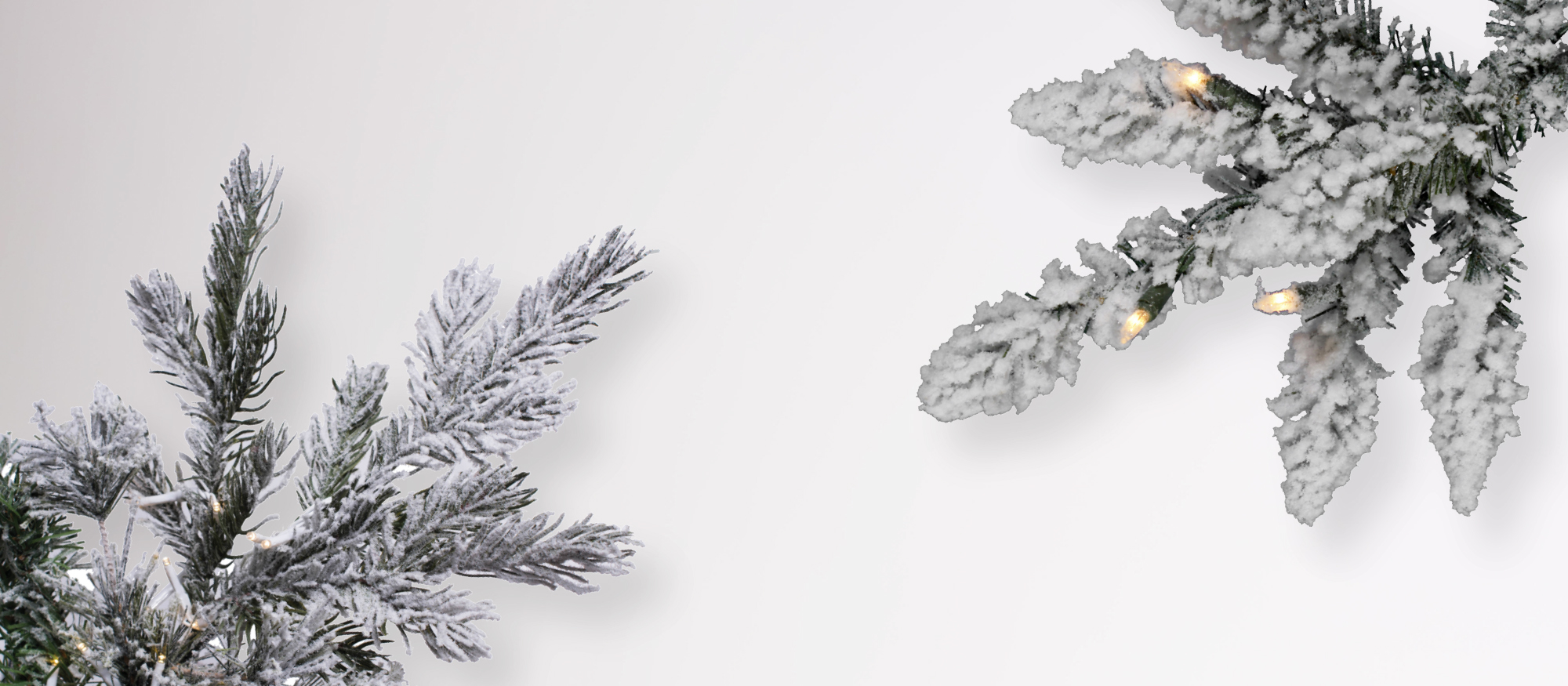 The base color of your flocked tree can instantly change your design aesthetic. Trees flocked on green provide a natural snowy look with the classic feel of a traditional evergreen. For a bolder choice, white trees with white flocking transform a space into a brilliant winter wonderland.
Flocking clean-up tip
For really stubborn flocking that's stuck to furniture or fabric, use a lint brush or clothing shaver to pick up excess material. This gadget easily removes fuzz, pills, and particles from fabric surfaces. Always test first in an inconspicuous area.
Color: from natural to bold
Apart from the traditional green, Vickerman offers an array of beautiful, vibrant trees. Showstopping hues can elevate any design style while accompanying a variety of décor. Aside from white-flocked trees, Vickerman offers the lovely White Sparkle Spruce. This tree is beautifully complimented by colorful and candy ornaments, becoming the perfect canvas for a more vivid décor scape. The sparkle continues with the Vickerman Platinum Fir and Gold Fir trees. The shine and brilliance of these unique trees are enhanced by any décor and can beautifully showcase more neutral ornaments. Contrasting the decor of the room with a sparkling tree is an excellent way for a designer to bring drama to a space. Silver, Gold, and Platinum pop beautifully against neutral decor and darker tones.
For the epitome of elegance, Vickerman's Black Slim Fir tree is a uniquely beautiful element to add to any space. The black branches are the perfect backdrop for silver or gold ornaments, conveying luxury and beauty. This season with the mixed-metal trend, the Black Slim Fir will be a lovely addition for any client. Not only does the Slim Fir come in Black, but a large variety of other shades. A lighter colored tree, like a pastel, will shine brighter in a well-lit space, while deeper jewel tones and darker flocked trees can be used to make a dramatic impact in dimmer spaces. Finding favorite colors for children, sports teams, or to match home décor can allow designers to make any theme possible. Utilizing color psychology and matching the feeling a client desires with the tree and accents is a great way to create impactful design. Bolder clients may use any of Vickerman's brighter colors to match their spaces or create a unique and memorable design moment for the season.
Lighting: Illuminating Your Work
The lighting you choose for a space can transform a space. Whether you're looking to create a warm and cozy or cool and modern look, lighting will play a large part in helping you bring your vision to life.
Low-voltage lights are the most versatile lighting option with the most options for customization, including flashing capabilities and changing colors. These lights also come on a thinner wire that is more discreet in your overall design. They are also energy efficient. However, remember that these lights require a transformer (included with tree purchase), and the entire string can go out if it fails. Vickerman's guarantee gives clients five years of protection against light failures,
Standard-voltage lights offer designers a traditional, classic look. These lights are highly reliable and provide minimal risk of malfunction. These lights do not require a transformer, so the strand is easier to use and will be easier to manage if a light goes out. However, these strands may consume more power and do not leave designers as many possibilities for customization.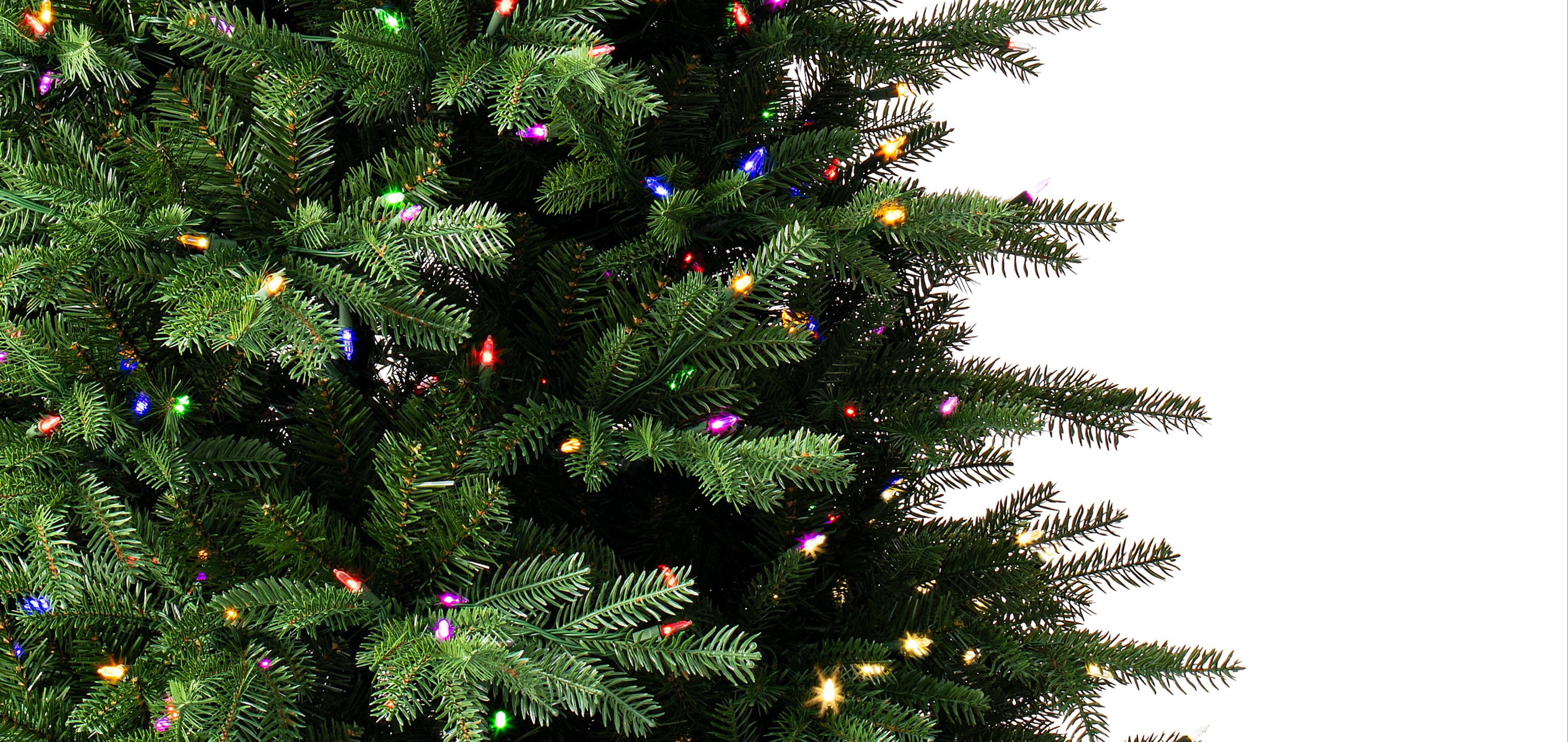 Lighting tip
When you can't afford a single light failure during an event or installation, always lean towards standard or high-voltage lighting for steadfast reliability.
Storage: Preserving Your Tree for Years to Come
It is important to store trees in a dry location that does not exceed 100 degrees Fahrenheit. Excessive heat can cause PVC tips to crush and cause flocking to turn to dust. And storing your tree in a damp location can cause flocking to turn yellow.
All Vickerman trees should fit back into the original box. Give a gentle hug to each section to shrink their size. Tree sections can be stored in tree storage bags if additional storage is needed.
Get what you need to dazzle your clients
Vickerman has been making holiday decor for over 80 years. As a result, we know how to create beautiful Christmas trees and decorations that last. Our artificial trees are durable, realistic, and easy to set up, so you can design amazing holiday spaces for your clients every year.
We have a tree for every style and space, with thousands of options to choose from. You can find any size, shape, color, and lighting to match your creative vision with our quality products. We also have mixed materials, garlands, shatterproof ornaments, and more to make your tree stand out.
Let us help you find the perfect artificial Christmas tree for your clients.